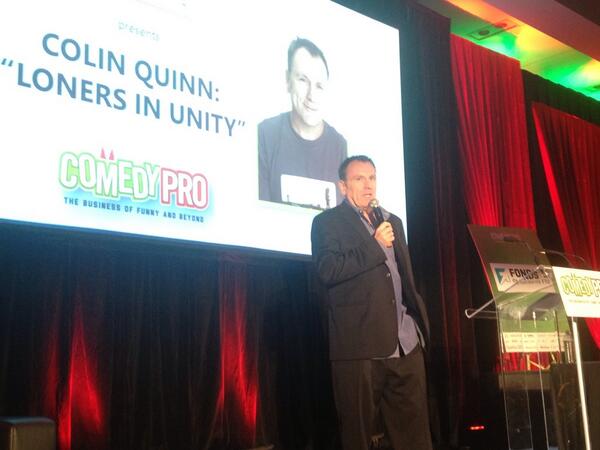 Colin Quinn gave the keynote address Thursday at the ComedyPro conference to an audience of fellow comedians, media pass holders and industry people. The keynote has in recent years been given by the likes of Patton Oswalt and Marc Maron. It's a chance for a comedian to be both serious and sincere about the business of funny.
Quinn did both, offering a loosely structured speech that hit on a few key points. He stressed that comedians should be themselves and stretch to say something during their act. And to not turn into a cheapskate when you become a headliner.
He also had a few messages for agents and managers, including: "Telling people they need more Twitter followers is not managing a career."
OffJFL.com was there to live-tweet the event and you can relive all of it here.
Here's a roundup of the best moments from the speech. You can also listen to the full audio, courtesy of LaughSpin. Their post on the keynote also includes a great recap by Emma Kat Richardson. Worth reading.

1. The Roastmaster supports Colin Quinn
Colin gets heckled by @realjeffreyross #jflmtl #comedypro

— Sean Butler (@seanbutlermusic)

July 25, 2013

Ross yelled "Fuck Andy Kindler!" in response to this:
'I hope you memorize the speech' Andy Kindler told Colin Quinn for his #comedypro speech. Quinn: 'Fuck you".

— Craig Silverman (@CraigSilverman)

July 25, 2013

2. Quinn begins criticizing the industry
"Following the plan that failed 90% of the time for the last 70 years… I guess it's something to do" @iamcolinquinn on networks #comedypro

— Sean Butler (@seanbutlermusic)

July 25, 2013

"It's creative business", Colin asks marketers and networks to stop thinking in numbers and start believing in alchemy. #jflmtl #comedypro

— Sean Butler (@seanbutlermusic)

July 25, 2013

3. Quinn discusses his disappointment
Colin discusses the foolishness of not giving people like Patrice O'Neal a show. Big personalites should be displayed #jftmtl #comedypro

— Sean Butler (@seanbutlermusic)

July 25, 2013

Colin Quinn on Comedy Central having Norm McDonald host a sports show: "He doesn't even like sports, he just likes gambling." #ComedyPRO

— Craig Silverman (@CraigSilverman)

July 25, 2013

4. To all you managers and agents
Colin discusses the sick relationship comedians have with their managers. Comedians are like psychotic boyfriends #jflmtl #comedypro

— Sean Butler (@seanbutlermusic)

July 25, 2013

Quinn says comedians are the funny asshole at the party. Managers/agents: "You're the designated driver that has to take us home" #comedyPRO

— Craig Silverman (@CraigSilverman)

July 25, 2013

Now Quinn on to managers and agents. "First of all, telling people they need more Twitter followers is not managing a career." #comedyPRO

— Craig Silverman (@CraigSilverman)

July 25, 2013

5. Quinn advises his fellow comedians
"Success in stand up is bad for your act" @iamcolinquinn #jflmtl #comedypro

— Sean Butler (@seanbutlermusic)

July 25, 2013

When you become a headliner, don't get cheap, Quinn says. Also: "No more than 64 percent of your act should be dick jokes" #comedyPRO

— Craig Silverman (@CraigSilverman)

July 25, 2013

"You don't have to change anything about your content, but you do have to be civil" Colin on getting what you want #comedypro #JFLMTL

— Sean Butler (@seanbutlermusic)

July 25, 2013

"If you get more applause break than laughs, you're a pandering hack" @iamcolinquinn #jflmtl #comedypro

— Sean Butler (@seanbutlermusic)

July 25, 2013

"Shock can easily become the new hack. Edgy comedy could become the new hack." — Colin Quinn #ComedyPRO

— Craig Silverman (@CraigSilverman)

July 25, 2013

"Fear becoming a cheap headliner, a thief or a hack. Let me save us all the pressure of being a genius" #comedypro #JFLMTL

— Sean Butler (@seanbutlermusic)

July 25, 2013

6. Parting shot
"This keynote speech is a fucking mistake, we all knew that." Colin Quinn #ComedyPRO

— Craig Silverman (@CraigSilverman)

July 25, 2013